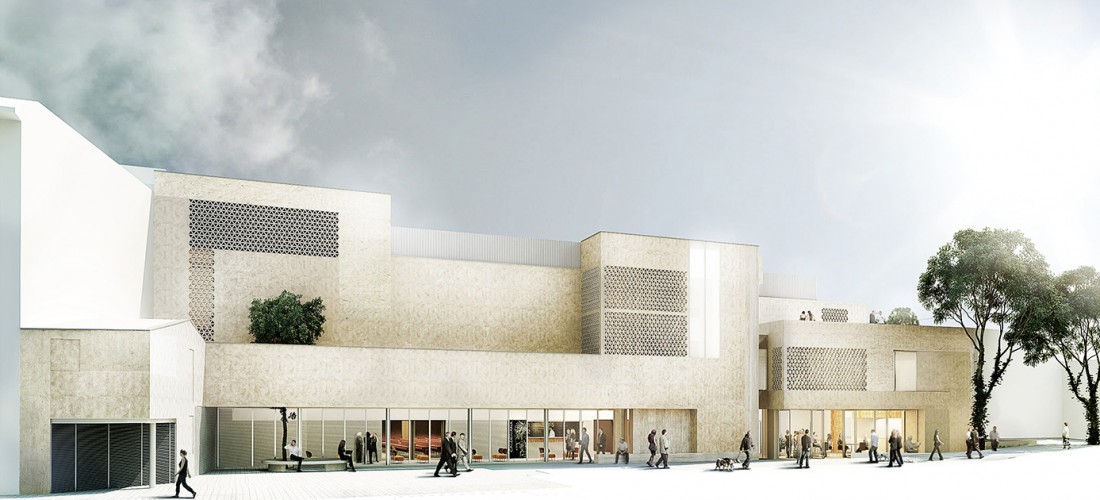 Descripció
The assignment of the contest was to place the former social centre, Casal of Alella, in a new building that would also accommodate the new municipal theater and the new music and dance schools. The building would be at the same site as the old Casal, in the center of Alella, facing the street to the south and a small interior courtyard to the north. The proposal aims to invert the main entrance, originally located on the street, and bring it to the north façade, transforming the back courtyard into the public space prior to entrance. The social centre is placed across the street and the courtyard and will link the two, bringing back the memories when the old Casal would place the tables outside and occupy the street, blurring the boundaries between private and public space.
The music and dance schools are located on the upper level, so that synergies created can enrich both disciplines. As classes will be facing south, before the glazing there will be a ceramic lattice to protect from the sun, only interrupted by two large openings that emphasize the public role of the building seen from the street. Meticulous work has been put on the roof of the upper level, creating a light metal structure that forms skylights to the north and assuring same light conditions during the day. The purity of the geometry of the roof will be visible from the atrium, which connects all three floors and relates its different spaces.
The program is conditioned by the dimensions of its largest part, the auditorium, and the will to make it as wide as possible. With the auditorium being aligned with the street, the social centre is placed perpendicular connecting the street with the back courtyard, functioning as a covered pathway. The ground level is completed with the atrium, which holds the main entrance to the auditorium and can be used as an extension of the public space by folding its glazing on the street level.
The materiality of the building is based on the textures that have traditionally covered the town of Alella, based in ocher tones plaster and varied levels of roughness. Large windows are covered with ceramic lattice, which becomes part of the texturing. Whereas the southern facade facing the street keeps a more sober and urban character, the façade facing north dialogues with the small constructions embracing the courtyard, and fragments itself into different volumes and textures, hiding its true dimension for a less homogeneous, more domestic facade.
Alella 
Project: 2015
Construction: 2016
Area:
2167  m2
Architecture:
Pol Femenias
Quantity surveyour:
Ramon Cisa (Betarq)
Engineering:
Joan Escanelles, Patricia Camacho, David Cervero (A380)
Structure calculation:
Jaume VIzcarro
Client:
Alella's City Council
Images:
©FEM